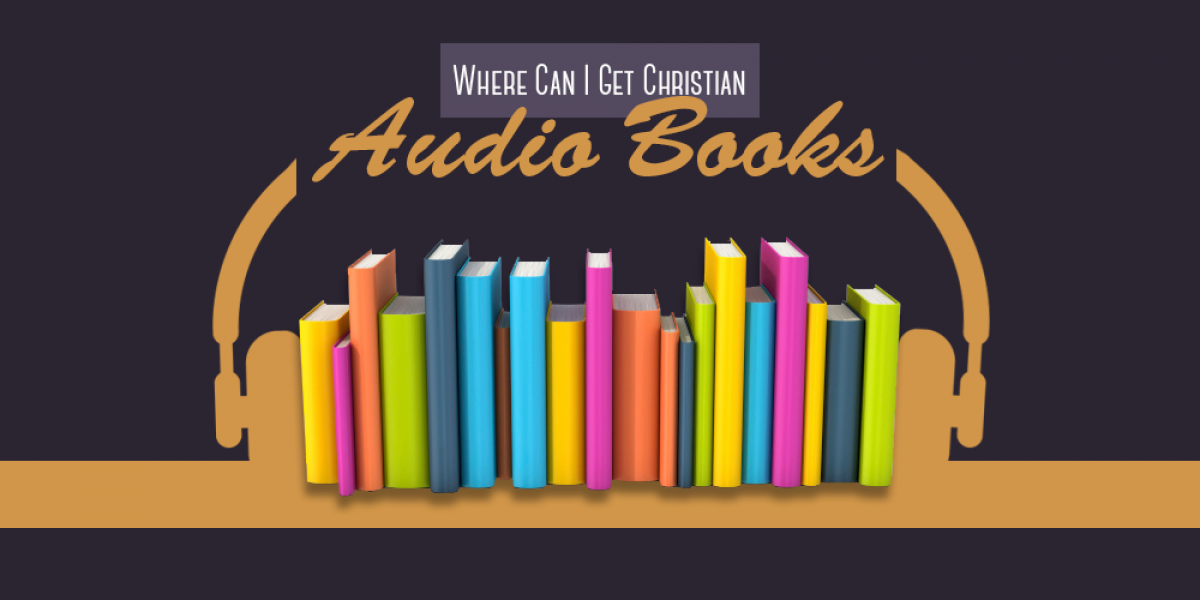 Reading is one of the simplest pleasures in life. With every passing fad or technological improvement, there is still a large portion of the population that considers reading their favorite hobby. In the last few decades, technology has provided new possibilities when it comes to enjoying a book. First, there were books on cassette and CD, followed by e-readers like the Kindle and Nook. Now, we have digital audio books, magazines on iPads, and more. For people who enjoy books but don't have time to read, audiobooks are a lifesaver. For believers who enjoy books or want to give them a whirl, the question is "Where can I get Christian audio books?"
From our list below, you'll be able to find several promising companies that offer a variety of services when it comes to audiobooks.
Brick and Mortar Stores
For those who haven't made the full swing into the digital side of things, you will be happy to know that some stores still carry Christian audio books on CD. Lifeway, for example, has many classics from authors like John Piper and Beth Moore available to purchase. They even have some of the popular new Christian books on CD too.
As far as other brick and mortar stores, Family Christian and Barnes and Noble are smart choices for finding Christian audio books.
Audible.com
If you prefer digital downloads to CDs, Audible.com is one of the best services for listening to audiobooks. An Amazon company, you can either get books through them or you can download the audio version as part of buying most books through Amazon. Often times you can buy the Kindle version of a book on Amazon, then add the narration for $4-5 more. On top of that, the Amazon affiliation allows you to switch back and forth between reading and listening without losing your place. Not a bad perk.
As far as Audible itself, they boast over 180,000 titles in their library. Though the first month with the company is free, membership costs $14.95 thereafter. What this gets you is one audiobook for every 30 days. For people who only go through about one book a month, this might be a better deal than buying a new $20 audiobook each month. They also claim that you can keep your audiobooks even after cancelling your membership.
OverDrive
Here's a word that everyone loves: free. OverDrive is a service that allows you to rent audiobooks, ebooks, and videos from your local public library. Like most people, you were probably unaware that you can rent digital books from your local library (or at least most people can).
There's no subscription fee or anything like that. OverDrive only costs you a library card. Even though most library late fees are very affordable, you don't even have to worry about those with this app because the books simply disappear when your time is up. Fortunately, many of the books can be automatically renewed.

Audiobooks.com
This company has a simple enough name. Offering an audiobook service very similar to Audible, these guys have a monthly subscription plan for $14.95 that gets you one book per month. They also offer a free trial period, so technically you could try both them and Audible for a while and see which you prefer.
As far as titles, Audible is still the king with roughly an 80,000-book advantage. Audiobooks.com does allow you to purchase credits toward receiving more than one book each month, however doing so might take away from the financial advantage of having a subscription plan.
Scribd - Christian Audio Books
If Audible and Audiobooks.com sound a little too rich for your blood, maybe you should try Scribd. This is yet another subscription service that allows you to have one audiobook each month, this time for $8.99. If that price sounds good, then we should also tell you that they'll let you have three ebooks each month as well. As part of your subscription, you can also check out a large collection of magazines, news articles and more.
Where's the catch? Scribd doesn't have quite as many books to choose from as most of these other services. Still, for half the price it's a great deal.
Downpour
Subscription plans aren't for everybody. If the idea of making monthly payments doesn't appeal to you, maybe you should try out Downpour. With this company, you only rent the audiobooks that you want to listen to. Most of the books range from $5-8, so renting one or two would still be cheaper than some of the subscription plans from other companies.
Where Audible has 180,000 titles, Downpour only has around 14,000. That's a pretty large deficit, but again, you're not paying a monthly fee. If they don't have the Christian audio books you want, then you can simply walk away. Downpour is going to take some time to catch up to some of these other services, but they are worth looking into for certain books.
Audiobooks Now
Audiobooks Now is a mix between subscription plan and a digital store. Think of it like Costco or Sam's Club. For $5/month, you buy into the Club Plan. This gets you discounts of up to 50% off audiobooks that you can purchase. Even with the Club discount, this is more expensive than the other services on this list. These are audiobooks that you are buying, though, not renting.
Despite costing more than Audible or some of these others, Audiobooks Now is a great deal for someone who loves Christian audio books. The selection of titles includes most, if not all, of today's bestsellers and the prices are decent when you consider that you get to keep the books. The service also provides audio versions of dozens of literary classics like Moby Dick and Great Expectations for free. If you're new to audiobooks, you may want to try these out before committing to any service or plans.
Simply Audiobooks
If digital audiobooks sound like too much of a hassle, Simply Audiobooks is a great way to enjoy physical CDs of your favorite books. This company works the way that Netflix used to before instant streaming became their business model.
With Simply Audiobooks, you pay a monthly fee of either $19.98 (one book at a time), $29.98 (two books at a time), or $39.98 (three books at a time). Let's say you pick the cheapest option here at $19.98. That means you will create a list of the books you want to rent and Simply Audiobooks will mail you the CD of your first audiobook. Through their system, you can either listen to that audiobook for the six months or you can listen to it in one day and ship it back. That's right, you can take your time with these rentals and ship them back whenever you like.
What separates Simply Audiobooks from these other companies is that you could theoretically listen to 5-10 Christian audio books in single month for only $19.98. If you're someone who has an extra long commute to work each day, you could go through quite a few audiobooks for what is usually the price of buying one new release. While it may not offer the versatility of digital audiobooks, this service does let you work at your own pace without fear of losing your book or paying a late fee. Their 50,000 titles should give you plenty to stay busy too.
So many of these services are available at affordable prices. You shouldn't have any problem finding Christian audio books to keep you entertained throughout the week. We know that reading is a beloved activity for many people and that there are several books out there that have changed people's lives.
At the K-LOVE Fan Awards, we try to honor the Christian books each year that have made an impact on the Christian community. As part of a weekend that features the biggest Christian artists, filmmakers, and more, the K-LOVE Fan Awards are the ultimate fan experience. To see how you and your family can attend this amazing weekend, click on the link below.