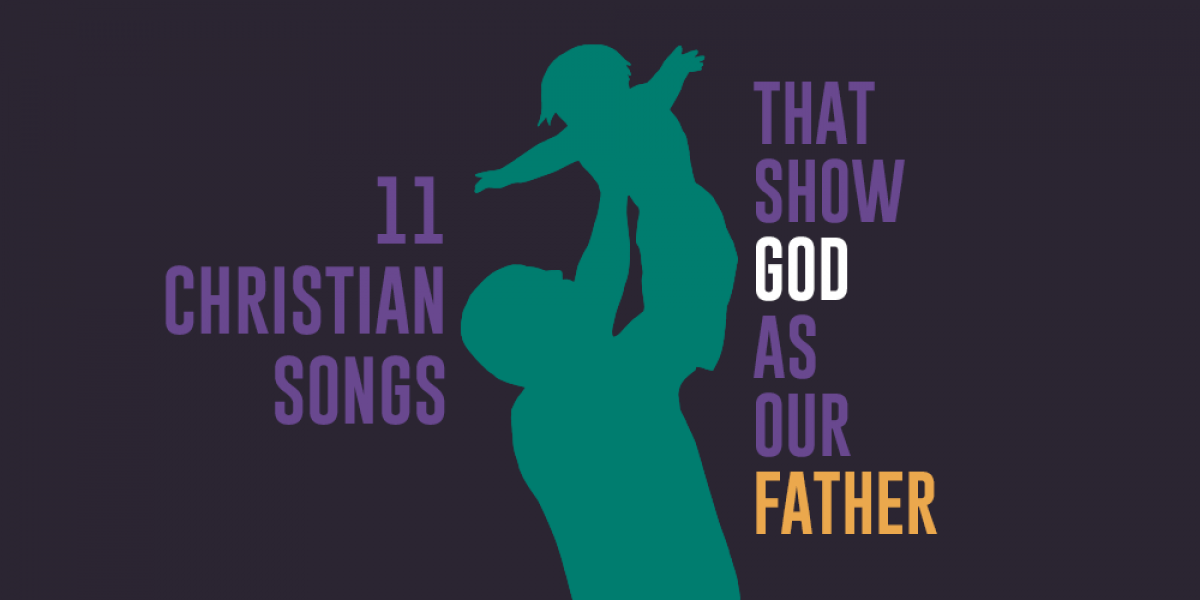 With Father's Day coming up, we wanted to look at a few of the Christian songs that recognize God as our Father. The Holy Trinity is well represented throughout Christian music with there being plenty of songs about both the Holy Spirit as well as Jesus. All part of who God is, these different aspects of His presence have each come to be known through a certain set of characteristics. The Christian songs addressing God the Father tend to focus on His overwhelming love and the way in which He watches over us. Here are just a few of our favorite Christian songs addressing this subject.
"Good Good Father" - Chris Tomlin
We all know that a single released by Chris Tomlin has a pretty strong chance at becoming a beloved worship song in no time. 2016's "Good Good Father" was just the latest in a string of popular songs recorded by Tomlin over the last decade or so. Aside from the artist singing the track, it is the song's simple message that has resonated with audiences around the globe. "Good Good Father" addresses the fact that we can often feel helpless, alone, and without answers, but that doesn't change who God is.
"Father" - Hillsong UNITED
If you're looking for Christian songs on just about any subject, Hillsong is one of the first places you should check. Between the different groups under the Hillsong banner, you can actually find a few different songs about God the Father. This track from Hillsong UNITED appears on the "Aftermath" album from 2011. The song is a very atmospheric one that slowly builds to an eruption of worship around the five-minute mark. "Our Father" by Hillsong Worship is another song that highlights God's provision as our father figure. It incorporates the Lord's prayer and focuses on the ways in which God plots the paths in which we walk.
"Reckless Love" - Cory Asbury
The number of people who haven't heard this hit song from Cory Asbury is dwindling, especially after the worship leader took home two K-LOVE Fan Awards at the 2018 show. "Reckless Love" uses the New Testament parable about a shepherd leaving his flock in order to find a lost sheep as a means to convey how God the Father loves us. The song tells us that God has been watching over us even before we took our first breaths and that His unconditional love is all encompassing.
"He Knows My Name" - Francesca Battistelli
One of the great things about seeing God as a father and not just "the man upstairs" is that we have a personal relationship with Him. When you strictly believe that God is just an entity who can't wait to zap you with a lightning bolt every time you make a poor decision, you will miss out on so much. Francesca Battistelli's "He Knows My Name" reminds us that we are known by the God of the universe and that is a much greater thing than earthly accolades or fame. Knowing that we are His, we can approach life with a fresh sense of power and purpose.
"How Deep the Father's Love for Us" - Various Artists
This modern classic hymn written by Stuart Townend has been covered by a number of artists over the years, ranging from Phillips, Craig and Dean to Selah, Nichole Nordeman, and even Skillet. "How Deep the Father's Love for Us," as the title suggests, examines the story of our salvation through the eyes of a Father who sent His Son to die. If God didn't care for us enough to save us, then Jesus wouldn't have to die. His death is painful in one sense, but it accomplishes the Father's will at the same time. Speaking of Nichole Nordeman earlier, her song "Name" is another one that tells us how God cares for us intimately as a Father.
"Hello, My Name Is" - Matthew West
As we go through life we will constantly be bombarded with the idea that we are not good enough. Facing attacks against our looks, status, accomplishments, failures, and so on, we have to remember that we are children of God. In "Hello, My Name Is," Matthew West retraces his life through all of his mistakes and realizes that instead of feeling bogged down by regret, he needs to rejoice in being a child of God.
"Fields of Grace" - Big Daddy Weave
Other artists like Darrell Evans have performed this song, but most listeners recognize "Fields of Grace" as a hit song from Big Daddy Weave. Similar to the conclusion of Matthew West's song right before this, "Fields of Grace" is a celebration of the Father/child relationship that we can enjoy with God. While obedience and punishment are important aspects of that connection, we should also be able to spend time with God that is filled with joy and love. This is not one of the most complex Christian songs out there, as it's all about the simple message of feeling the warmth of God's love.
"No Longer Slaves" - Bethel Music - Christian Songs About God the Father
The Bible says in Matthew 6 that humans are incapable of serving two masters. When we come to Christ, we are choosing to make Him the master of our lives. Romans 8:15 also states that we have traded in slavery to our sinful selves for adoption as sons and daughters of God. "No Longer Slaves" is an anthem-like call declaring that we do not have to return to our previous master of sin. Instead we can rest in knowing that we are children of God and that He has been watching over us all of our lives.
"Who You Say We Are" - Steven Curtis Chapman
It's incredible to think of how God sent His Son to this earth in order to save us from our sins. The Bible tells us that God took action to redeem us even as we were currently working against Him. We should forever be grateful for the ways in which God has blessed us, especially as it pertains to our salvation. Steven Curtis Chapman's "Who You Say We Are" is a song of thanksgiving that recognizes God's adoption of us and what that means for us today.
"Children of God" - Third Day
Another one of the Christian songs that rejoices in God the Father's love is "Children of God" by Third Day. The song instructs all of the church to call upon the Lord in humility and thankfulness as the natural reaction to the love He has poured out for us. One of the band's most popular songs, "Children of God" begins with Mac Powell's iconic vocals praising the Father and ends with a group of children repeating the phrase "We are the saints / We are the children / We've been redeemed / We've been forgiven / We are the sons and daughters of our God."
"Sing Over Your Children" - Matt Maher
It is a sad fact of the Christian life that we are often diverted from the path that God wants us to walk to one that will ultimately lead to heartache and disappointment. In Matt Maher's "Sing Over Your Children" we see that God is constantly calling us back to Him. Even though we continually look for false idols to worship, nothing can satisfy like God the Father. This is a powerful reminder for each time we falter. We can and should always turn back to the Father who loves us like no other.
Christian songs like these above teach us so much about the love of God and help us to never forget the importance of that personal relationship which all believers enjoy. You can also find plenty of songs on other topics like prayer. At the K-LOVE Fan Awards we know that music and other Christian entertainment has the ability to profoundly affect our lives. That's why each year we bring together many of the genre's biggest names for the ultimate fan experience. Find out how you and your family can be a part of the action by clicking on the link below.