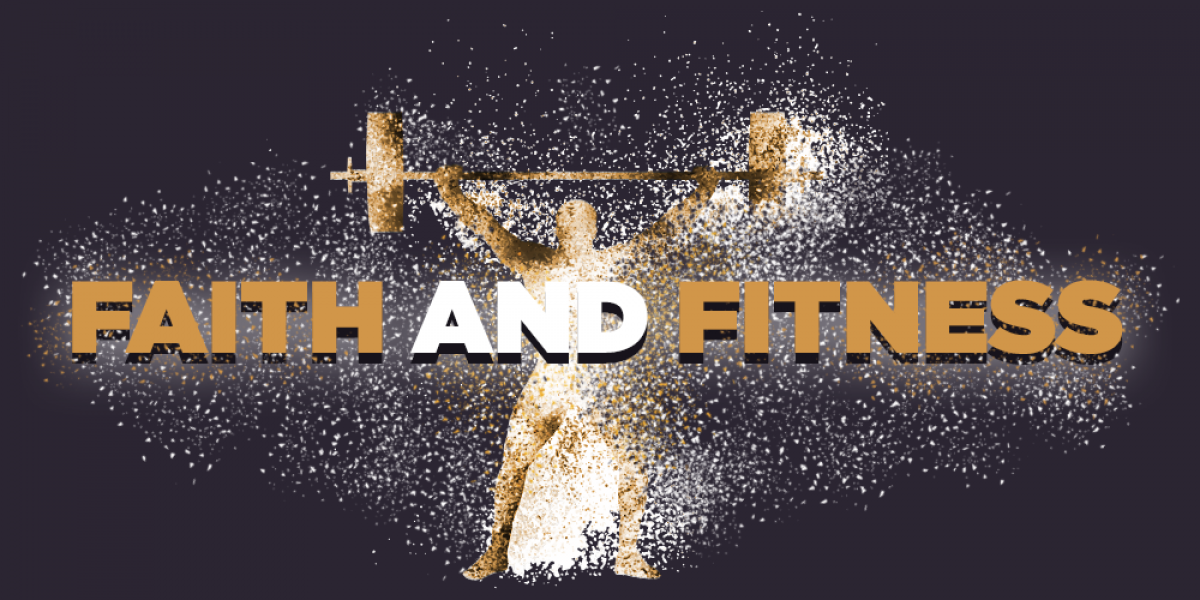 We all want to be healthy. Each year, eating well and working out more are near the top of the most popular New Year's resolutions. While each person's idea of healthy is unique, we can all agree that good health typically leads to a longer life. You don't have to compete on "American Ninja Warrior" or limit yourself to only organic food to be considered healthy. Through a series of wise choices, we can make quite an impact on our overall health. Faith is also an important part of our lives, one that can affect how we treat others and the way in which we live day to day. Is there a place where faith and fitness meet? You might be surprised by the similarities between the two. There might even be an argument for one complementing the other. Let's look at a few ways in which faith and fitness find common ground.
Your Body is the Lord's
Mankind has an obsession at times on being masters of its own fate. We love to make our own choices and have final say on all matters. It's perfectly okay to enjoy freedom, but at the end of the day, we simply can't be in control of everything. For starters, we are such limited creatures that we don't have the ability. On top of that, creation only has one Creator. It all answers to Him. Since mankind is under that same heading, we don't have the ultimate authority in our lives. God wants us to have and enjoy free will, but His plans win out in the end.
God not only has a claim on our lives through His role as the Creator as He also paid a price for us when Jesus died on the cross to sacrifice himself for our sins. The Bible is generally talking about sexual immorality when it comes to the proper treatment of our bodies, but it's not a significant leap to reach the conclusion that we are to take care of ourselves in the areas of health and dieting. We see in Genesis 1 that God has commissioned Man to be master of the earth and to take care of it. Why should we think that this doesn't apply to our own bodies as well?

Good Health = Better Fit to Serve
Christians know that they are to serve in the Church, both as an act of obedience to God and to help their local church in reaching the lost at and home and around the world. There are so many ways to get involved in the community and in your church. Whether it's teaching Sunday School, coaching an athletic team, mopping the floors, or visiting the sick in hospitals, we all have the opportunity to play a part in the story that God is telling. It's harder to fill your role when you are constantly sick or lacking energy.
Did you know that there are more benefits to eating healthy and exercising than simply losing weight? These habits will help you to sleep better, have more energy, and fight anxiety and other health issues. It would be near impossible to assure you that healthy habits will make you live longer, but you've got the best chance of delaying certain issues when you're engaging in exercise and dieting. Faith and fitness come together to allow you the opportunity to make the biggest impact on this world for Christ by ensuring that you're here as long as possible and healthy enough to serve in that time. It's hard to put in work for the kingdom of God if you can barely get out of your chair. If you're constantly feeling under the weather, you're also less likely to want to get out and serve. When we take care of ourselves, we are better able to take care of others. Just don't get carried away with the idea of personal fitness and then forget to take advantage of your health by ministering to others.
Faith and Fitness Leads to a Better Society
If we decided to take faith and fitness seriously and actively work toward bettering ourselves and those around us, it would be interesting to see the results. On the physical side of things, a church that is fit and prioritizes healthy living is one that could drastically affect its members and the surrounding community. What if a church decided to contribute to healthier eating habits in less fortunate communities? By growing produce, providing literature, or a number of other methods, a community could see better health projections and a door opening to new opportunities.
As great as being healthy is, we can never forget the importance of bringing the message of faith to those in need. That receives top priority always. There's no reason why we shouldn't meet physical needs of others and improve our own lives while we're here on this earth, though. If we look at the early Church in Acts, we see the disciples and others meeting the needs of widows, healing the sick, and taking care of others they come into contact with in ministry.
"Pure and undefiled religion in the sight of our God and Father is this: to visit orphans and widows in their distress, and to keep oneself unstained by the world."
James 1:27
Fitness is nothing without the eternal impact of faith, but that doesn't mean that we can't combine faith and fitness to do wonderful things for the world. Imagine a world where sickness is greatly reduced, world hunger is relatively unheard of, and the word of God is flowing freely. A little too good to be true? We do live in a broken world where there will always be some level of sickness and death and those who refuse to believe in a loving God. That doesn't mean it's not worth striving for such an idea. We can already see that great gains have been made in the last few decades by looking at the Global Hunger Index. While we seek to end starvation in countries less fortunate than our own, we can also fight unhealthy trends in our own neck of the woods.
Fitness Means Discipline
Have you ever decided to try a new diet but then seen a video on Facebook about a burrito pizza and all of your determination immediately crumbles into the mouthwatering thought of such a concoction? What about getting that gym membership and then only going once or twice in six months? One thing that both faith and fitness have in common is that discipline is a must. When we try to grow in both faith and fitness, we are seeking to consistently act in a manner that will develop the right habits over time. If you make it a point to never drink soda, the longer you go without drinking it, the easier it should be to avoid. Keeping a regular quiet time isn't as much of a struggle if you've been doing one as part of your regular morning routine the last three years.
Another aspect of discipline is that we have to prioritize the things that matter to us. If you're going to live healthy, it means you're eating a few less cookies and doing a few more sit-ups. We also aren't creating spiritually healthy habits if we neglect our Bibles for another hour of TV. Every one of us is sinful in our own ways. We will never reach absolute perfection until we are standing before God. That means we're going to slip up every now and then, whether it's an unhealthy meal or a moment of laziness that takes us away from a ministry opportunity. The proper response is to correct your course before this minor setback becomes a clear path to destruction.
As you can see, there are some similarities between faith and fitness. We can use both to grow ourselves and to better serve those around us. Next time you're listening to your Christian workout playlist at the gym, you just might think about the importance of treating your body as a temple and be encouraged to finish that last set. Be healthy, stay faithful, and do whatever you can to take part in God's plan.
We all use different methods to stay encouraged and seek God's will for our lives, be it through scripture or something like Christian books and music. At the K-LOVE Fan Awards, we recognize the artists and entertainers who are making the biggest impact on the Christian community today and bring their biggest fans along for the ride. Find out how you can get in on the action by clicking below.