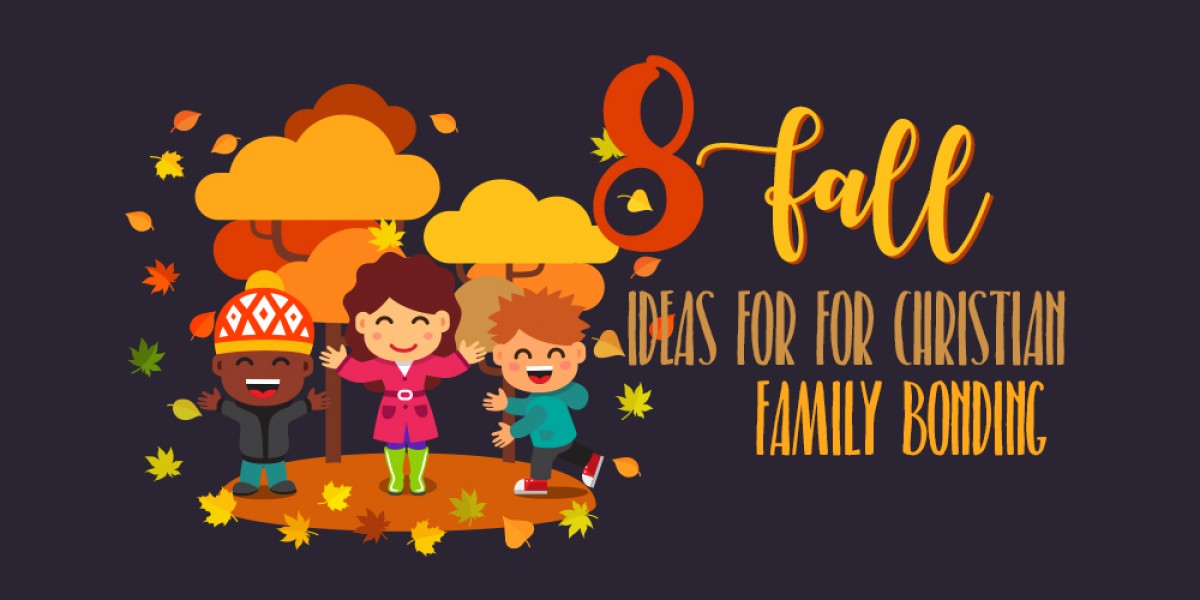 Fall is in the air, which means it's time to get outside and enjoy the cooler weather before winter shows up and ruins the party. We all have our favorite activities that typically dominate the season, but maybe you're looking for something new for your Christian family to enjoy. We've got a few ideas to make your fall more memorable. No matter how you decide to spend the season, make time for your family and enjoy fun adventures together.
Family Photo Sessions
We know when you think about getting portraits done you might harken back to uncomfortable school pictures and bad hair days, but family photo sessions can also be a lot of fun. Going outdoors and playing in the fallen leaves leads to great pictures and can be especially fun with little kids.
If going to a professional studio sounds both expensive and stifling, find a friend or local professional photographer who you can work with for a reasonable price. Photo sessions can sometimes be expensive, but they certainly don't have to be that way. With an increasing accessibility to photography technology and a young generation eager to get a foot in the door in the business, you probably have a family friend or know someone at church who is willing to keep costs simple. If someone is willing to give you a discount (or perhaps not charge you at all), be sure to thank them profusely and maybe slide them a little extra cash to show your gratitude.
Corn Maze
If you want to bond with your Christian family and celebrate the season, corn mazes are one of the best opportunities we can imagine. It's important to note that there are several different kinds of corn mazes out there. Haunted corn mazes are favored among teens and young adults, but there are plenty of options out there that are not made to scare patrons. Instead of horror, these corn mazes are about solving puzzles or simply enjoying the fall weather. By walking through a labyrinth of fall colors you can enjoy a fun afternoon of Christian family bonding time.
Pumpkin Carving
Another activity that often gets a bad rap for its scarier associations is pumpkin carving. There are many old Halloween legends involving pumpkins or jack o'lanterns that your Christian family may not want to engage with, but the simple practice of carving a pumpkin is an innocent, fun way to enjoy the fall season. Not only is the process of carving your pumpkin a fun craft, but you also get the opportunity to make a festive decoration for your front porch (or garage if your masterpiece doesn't turn out well). Take this opportunity to recreate the logo of your favorite team or comic book character or draw inspiration from a more religious place. If you're carving several pumpkins as a family, you may even want to stick with a theme for everyone. Don't forget to be safe with any sharp objects involved.
Church Festivals
Those of us who have grown up in the church likely have memories of several Oct. 31sts spent at church carnivals, harvest festivals, or some other fall-themed events that were free of Halloween's more worldly aspects. There is a good chance that your church, or another place of worship in the area, hosts some kind of fall event that is fun for the whole Christian family. Petting zoos, games, live music, and costumes are often found at these events, making them a good alternative for families with small kids. A lot of the items on this list of Christian family bonding ideas involve you taking care of the details yourself, but church events allow you to show up with minimal preparations and spend time with your favorite people.
Fall-Themed Game Night
For families who like the appeal of church festivals but want to put their own spin on it, there is always the choice of hosting a game night. This can be done with your own immediate family or you can invite other friends from church or the neighborhood to join in. Here are a few fall game ideas to get your creativity flowing. Aside from the games you can use the pumpkins you carved earlier on this list as well as other festive trimmings to make your house the perfect autumn destination.
Bonfires - 8 Fall Ideas for Christian Family Bonding
This is a bread-and-butter idea for Christian family bonding this fall. We all love taking in the great outdoors, but things can get a little chilly at night. That's why God invented bonfires...and smores. Whether you have made your own firepit or purchased one from a nearby store, these things are a great addition to your backyard. Sit around the fire sipping on coffee or hot chocolate with your family and talk about what events are taking place that week, what your son learned at church, what your daughter learned at school, and so on. Bonfires are a fun fall idea that promote community and fellowship.

Hiking and/or Camping Trips
If you really like the idea of spending nights by the fire, then a hiking or camping trip with your favorite Christian family might be the perfect fall getaway. Sleeping in a tent is still one of the easiest and cheapest ways to vacation with a family. A camping trip also allows you to spend time in nature away from the electronics that constantly control our lives. This is a good opportunity to talk about the Bible and God's role in nature as you cook by the fire or take a stroll down the trail.
Service Projects
What if we told you that you could spend quality time with your family while also making a difference in someone else's life? A great way for a Christian family to bond is through a service project or mission trip. We know that there are needs all around us, whether it be cleaning up after a hurricane or tornado or putting on a soccer clinic in your community. Depending on the ages of your children and what they are skilled at, you might be more inclined for a traditional mission trip or one that focuses on meeting people's physical needs. These opportunities are great learning experiences that bring the family closer together. Oh, and they can be really fun!
Though it doesn't take place in the fall, another fun way for a Christian family to spend time together is by visiting the biggest music event of the year, the K-LOVE Fan Awards. Each year the K-LOVE Fan Awards brings together the most popular names in Christian music, films, sports, and more for the ultimate fan experience. Find out how your family can be a part of the magic by clicking on the link below.