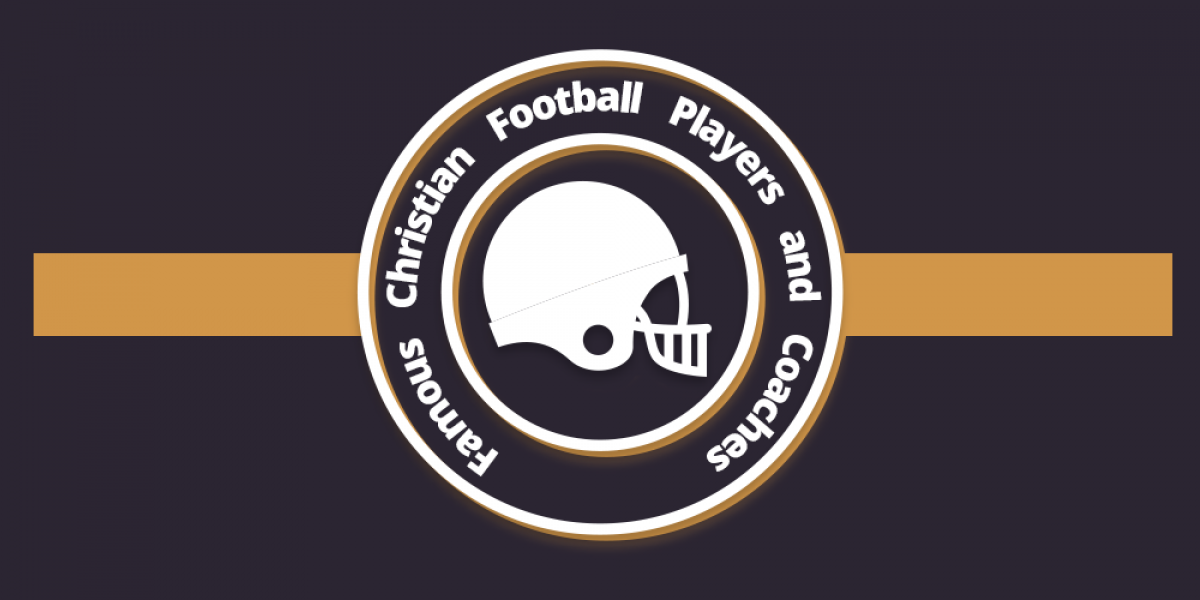 We've all seen it. After scoring the game-winning touchdown or kicking a 40-yard field goal, a football player will point to the sky to thank God for giving him the ability to do so. Faith and sports have been linked over the years as athletes recognize the platform that God has given them to proclaim His glory. If God allowed you to make millions of dollars to play a game, you'd be thankful too. While not every athlete is aware of God's blessing on their lives, there are many believers across a variety of sports that use their situation to bring others closer to Christ. There have been famous Christian football players and coaches who have done great things in their local communities and in nations across the world, all in an attempt to make the grace of God known to all. Here are but a few of these famous Christian football players and coaches who have taken advantage of the gifts that God has given them.
Tim Tebow
Might as well start out with one of the more obvious names, right? Throughout his record-breaking college career at Florida, Tebow was known as the guy who wrote Bible references under his eyes and knelt for prayer before, during, and after games. As football fans know, however, it wasn't just his religious beliefs that got him press. Many analysts list Tebow as one of the greatest college football players of all time. After he was able to win two national championships and a Heisman trophy, we're sure not going to argue the point. Although his professional career hasn't been ideal, Tebow has made the most of his talents by becoming a minor league baseball players under the New York Mets organization.
Like he's always done, the athlete is consistently leading in humility by never lashing out or publicly embracing negativity. On top of mission trips and other projects, the now-baseball player has a foundation that puts on an annual prom for people with special needs called Night to Shine. Here's Tebow talking more about the event on The Tonight Show with Jimmy Fallon.
Benjamin Watson
A current tight end in the NFL, Benjamin Watson has long been a vocal proponent of traditional values and a welcome voice in the gospel community. Watson played at the University of Georgia before being drafted by the New England Patriots in 2004. An experienced NFL veteran, he has also played for the New Orleans Saints, Cleveland Browns, and Baltimore Ravens. Watson began to receive national attention off the field after writing on cultural events like the Michael Brown shooting in Ferguson, Missouri. He has since penned a book on fatherhood and another on the issue of race. In 2015, Watson won the Sports Impact Award at the third annual K-LOVE Fan Awards.
Jared Allen - Famous Christian Football Players and Coaches
One of the best things about professional football is that amazing players can come from schools that are much less known than Notre Dame, Texas, or USC. Jared Allen racked up quite the list of accomplishments as a defensive end at Idaho State University before being drafted the same year as Benjamin Watson. Though he has since retired, Allen had a decorated career with the Minnesota Vikings, Kansas City Chiefs, and other teams. The defensive end was a five-time Pro Bowler and led the NFL in sacks during two seasons. When he wasn't striking fear into quarterbacks, Allen spent much of his time raising both money and awareness for causes ranging from animal shelters to medical research. You can find out more about his views on faith from this CBN piece during his time with the Vikings.
Mark Richt
We covered the coaching career of Mark Richt last year as he was one of the biggest Christian names in sports in 2016. Much of Richt's life has revolved around football as he has been playing or coaching the sport since the late 70's. The vast majority of his career has been spent at Florida State and as the head coach at Georgia, but he now finds himself the head coach of his alma mater, the University of Miami. He went 9-4 in his first year at the school, an improvement from the team's previous season. Richt won SEC Coach of the Year twice while he was at the University of Georgia and his future looks promising at Miami.
The coach has also made an impact outside the sports community by giving to charity, starting the U Network for former football players, and appearing in the "Facing the Giants Film." Here's a video going in depth on his story and what he believes in.
Reggie White
It's hard to talk about famous Christian football players and coaches and not mention the "Minister of Defense" Reggie White. The big defensive end set records and won awards just about anywhere he set foot, starting at the University of Tennessee. While in college, White set records for sacks in a game, sacks in a season, and career sacks. Reggie White also picked up his nickname at Tennessee after being ordained as a Baptist minister. He would often share his faith with teammates and offer up inspirational verses from scripture. White played 15 seasons of professional football, including one year with the ill-fated USFL. He won a Super Bowl and made the Pro Bowl 13 times along with a large collection of other accolades. Although he tragically passed away at the age of 43, Reggie White is still considered one of the best defensive players to ever don a professional uniform.
Dabo Swinney - Famous Christian Football Players and Coaches
Along with being one of the hottest names in coaching right now, Dabo Swinney of Clemson University also makes our list of famous Christian football players and coaches. Swinney played college ball at Alabama, but he was known more for his brains than his athletic ability. After a few post-grad years at his alma mater, he eventually became an assistant at his current school. Taking the reins in 2008, Swinney brought the school from mediocrity to greatness. The team won a national championship in 2016 and has a record of 70-13 over the last 6 seasons. Though Swinney is surely proud of his team's accomplishments and his many coaching honors, he seems more focused on setting a Godly example for his players. In recent years, the coach has come under attack for providing spiritual resources to his players. Despite a pending lawsuit, Swinney says he has no intentions to change any behaviour.

Tony Dungy
The last two famous Christian football players and coaches we'll be looking at are known for the skills as analysts and broadcasters today, but they each have made other contributions to the sport. Tony Dungy started out as a player in the late 1970's where he served in the defensive secondary at Pittsburgh. He held a string of coaching jobs through the 80's and 90's before finding his first head coaching position with the Tampa Bay Buccaneers. It was here and later in Indianapolis where Dungy became known as a legendary coach. Picking up a Super Bowl ring both as a player and a head coach, Tony Dungy had a great career inside the league. Since leaving that arena, he has found another home as an analyst for NBC. Much of Dungy's work outside of football has focused on the importance of father figures and mentoring. He has written multiple books on strength and leadership as well.
Kurt Warner - Famous Christian Football Players and Coaches
You can catch Kurt Warner behind a desk on the NFL Network these days, but his journey as a football player is much more exciting to talk about. Warner had plenty of talent, but it took a long time for anyone to give him the respect he would one day earn. Unlike many players on this list, the quarterback went undrafted after his career at Northern Iowa. After a couple of years in arena football (where he did very well), Warner was finally given the chance to show what he could do. Unfortunately, that meant playing ball in Europe for a season. Still, it eventually led to the then-27-year-old getting his first crack at the real deal with the St. Louis Rams. Warner's career would end 11 years later, having won a Super Bowl and been named to the Pro Bowl four times. The quarterback has always given God the glory for his many accomplishments and gives back through his First Things First Foundation.
These are just a sampling of the famous Christian football players and coaches that have used their platform to affirm Christian values and faith. You can find many others like them on teams across the country, but not everyone gets the same amount of spotlight to share their stories. At the K-LOVE Fan Awards we seek to honor the athletes who are standing up for what they believe in. Along with the world of sports, we bring together the biggest names in Christian music, movies, and more. Find out how you can be a part of the ultimate fan experience by clicking on the link below.