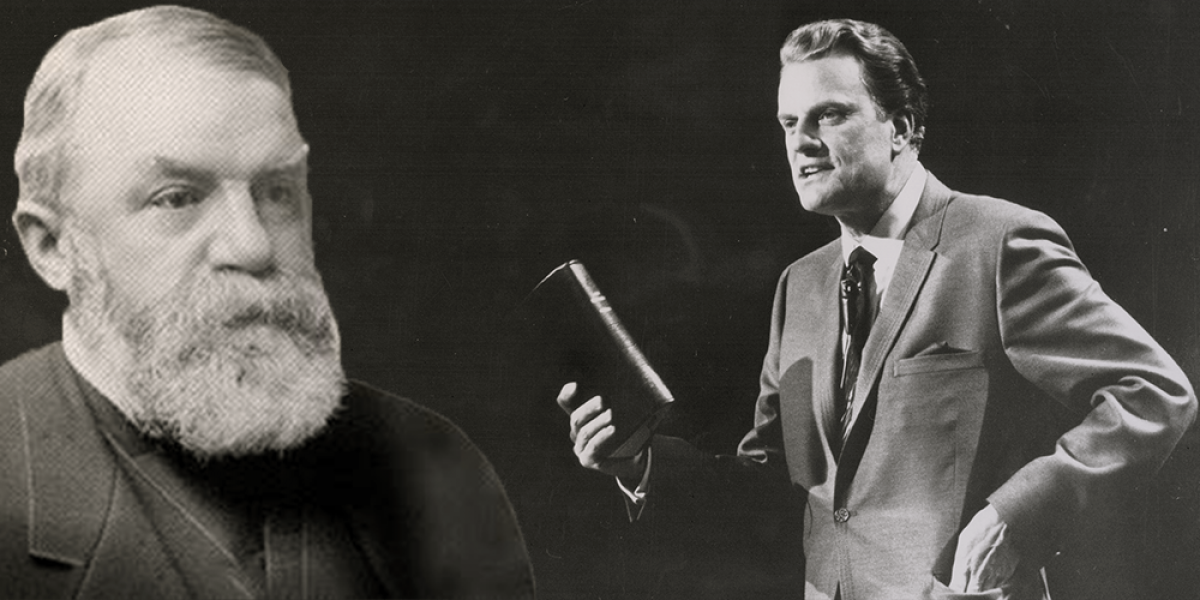 Western society has had no shortage of pastors and faith leaders over the last few centuries. A certain number of these men have become famous evangelists who have affected tens of millions of lives around the world. What makes one an evangelist as opposed to a theologian, pastor, or educator? Many of these evangelists would fit into one or more of these categories. What makes a speaker or pastor an evangelist is that he spends much of his time trying to reach others with the gospel. This has often been accomplished during revivals, conferences, and other forms of large-scale meetings. Here are some of the most famous evangelists who have faithfully preached the Word in the last few hundred years.
Billy Graham
Billy Graham was essentially the face of American Christianity during the 20th century. He began preaching at revivals he called "crusades" in the years following WWII. Over the course of his life, Graham preached in nearly 200 countries and likely lead millions of people to the Lord. Like many famous evangelists, Graham was unafraid to challenge people's hearts when it came to the Gospel. This mentality also made him an important figure during the civil rights movement of the 1960s as he would fight against racism where he could. Billy Graham lived to be nearly 100 years old, during which time the Lord used him in mighty ways for the Gospel.
George Whitefield
Skipping across the pond to one of the most famous evangelists in Britain, we find George Whitefield. One of the most prolific speakers in modern Christianity, he would often preach wherever he could find an audience. Sometimes this would be in a church but an open field was also an option. Whitefield was friends with John and Charles Wesley. The three men had a special bond and each played a significant role in the Great Awakening that took hold of Britain and the American colonies. We may think of preachers from centuries past as being stodgy or emotionless, but Whitefield was a man who spoke with passion and fully inhabited the joy and hope of which he was proclaiming.
Dwight L. Moody
Many of the famous evangelists from history were men who were radically changed by the Gospel. Dwight L. Moody was one such man. He helped where he could during the days of the Civil War. A few years later, though, Moody traveled to the United Kingdom, where his ministry as an evangelist really took off. By the end of the 19th century, Moody had shared the love of Christ throughout the United States as well as in Canada, the UK, and beyond. His work continues today through the Moody Bible Institute and in related organizations.
Charles Finney
One of the less famous evangelists on our list, Charles Grandison Finney made a great impact on the United States during the early-to-mid 19th century. As a theologian and abolitionist, Finney sought to spread the truth of God's Word among his fellow countrymen and for that message to affect every aspect of life. His work during the 1820s and 30s played a big role in the Second Great Awakening that swept through the U.S. Along with his accolades as a revivalist and evangelist, Finney also served as the second president of Oberlin College during the Civil War.
John and Charles Wesley
If you feel like your commitments at church are too time-consuming, you should look into the lives of John and Charles Wesley. From an early age the brothers would spend hours each day in prayer and Bible reading. It's said that John Wesley would preach two or three times a day when he was in his prime, riding horseback from town to town. The brothers, who began the Methodist movement, were also well known for the thousands of hymns they wrote over the years (predominantly written by Charles). Between passionate teaching, engaging written works, and timeless hymns, the Wesley brothers are certainly among the most famous evangelists.
Billy Sunday - Famous Evangelists
Although many famous evangelists received their callings from an early age, others fell naturally into the role years later. Billy Sunday was a professional baseball player when he came to know Christ. Several years later he began to transition into a ministry position that quickly became a destiny. Sunday held a number of revivals around the country, often in towns that lacked electricity. Forty years of preaching the word on the road, usually more than once a day, led to roughly one million people coming to the Lord. Though his ministry began to fizzle in later years, Sunday was quickly followed by Billy Graham and a number of other great evangelists.
Jonathan Edwards
Born the same year as John Wesley, Jonathan Edwards is one of the most well known American preachers in history. On top of his studies in religion, Edwards was an educated man with connections at Yale and Princeton who wanted to understand the world around him. He took part in the Great Awakening when still a young man, but his later years of ministry were rocky due to the reception of his teaching. Edwards preached to the masses as well as to those deemed lesser by the formalities of the mid-18th century. His most famous sermon is "Sinners in the Hands of an Angry God."
We could go on and on with many famous evangelists (and perhaps even longer debating what qualifies one as primarily an evangelist). Names like Spurgeon, Brainard, and Tennent are just a few we could have expounded on here, but the seven listed above are clearly among the most famous evangelists to tour the country.
Great preaching is a vital part of the growth of Christianity. At the K-LOVE Fan Awards, we also believe that Christian music, films, books, and sports allow for the message of the Bible to radiate through our everyday lives. That's why each year we want to celebrate the biggest names in Christian entertainment and the fans who are impacted by their work. Find out how you can be part of the year's biggest music event by clicking on the link below.