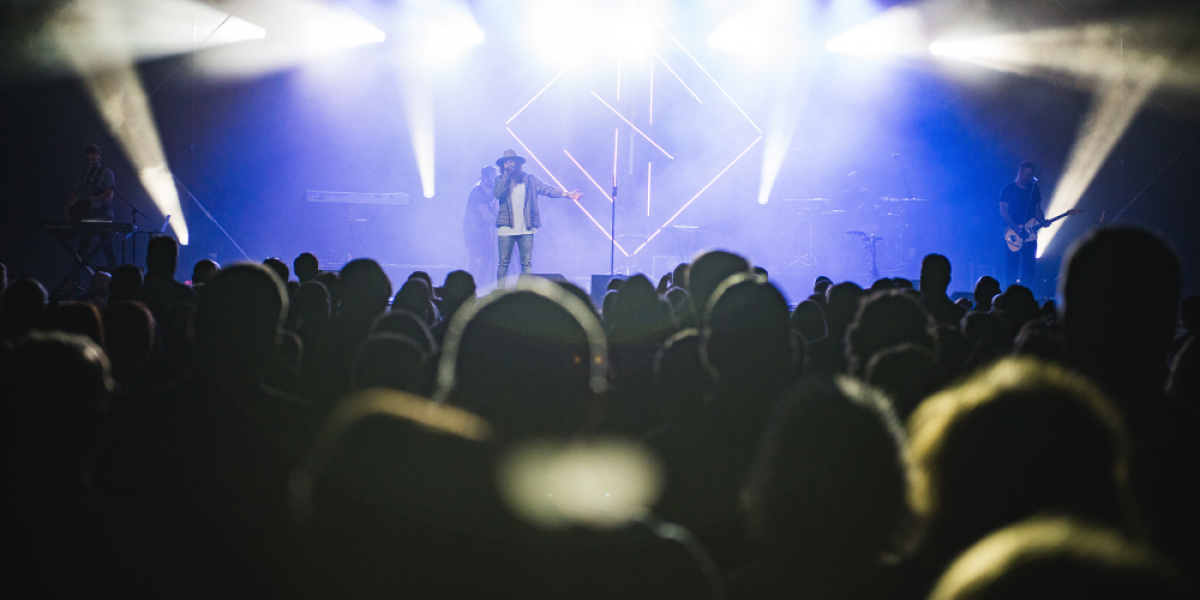 No matter how many times you burn through a studio recording, it's never quite the same as seeing your favorite band perform live. A hindrance for many when it comes to Christian concerts is the price of a ticket, but not every show is the same. These days a lot of people might be more interested in staying in and watching something on Netflix than traveling downtown or further. While we can't help you with the motivation to get off of your coach, let's look at how much Christian concerts cost and what you can expect to pay.
Who Do You Want to See? Where?
This is the first and arguably most important question to ask. Just like not every concert is the same, there isn't a universal ticket price for each artist. A band that rarely appears on the Billboard charts or on Christian radio stations is likely going to charge a lower price than an artist who has sold millions of albums. That's just basic economics. Plus, let's not forget that additional well-known artists are likely to produce a higher cost. For instance, Chris Tomlin plus Zach Williams may cost more than simply one of the two.
Something else to consider is that every concert venue has unique features that may alter the final ticket price. You wouldn't expect to pay $5 for a ticket to a show playing at your city's most iconic theater, right? Meanwhile a lesser known place that is standing room only might sell admission for less than $20. Now that we've acknowledged some of the differences between artists and venues, we'll see how much average Christian concerts cost.
General Admission vs. Assigned Seating at Christian Concerts
If you've been to a few Christian concerts, you've more than likely purchases a general admission ticket. These first-come, first-served seats are popular at shows that take place at churches, partly due to the fact that it's hard to individualize seats on a pew. One example of general admission is at the Micah Tyler show at the Life Center in Spokane, WA. For $20, you can get a ticket that allows you to sit wherever you like, provided you are there early enough to claim it.
One possible variation on a show being fully general admission is to have several layers of this seating style that are incrementally closer to the stage and higher in price. We'll discuss these kinds of add-ons in the next section, but just know that general admission doesn't always mean "exactly" the same thing. As we look at the price of this type of ticket for artists like Phil Wickham, Big Daddy Weave, and others, most general admission tickets are in the $20-30 range before any fees are applied. Again the shows that employ this kind of seating are usually at churches and other non-traditional concert venues. If you're looking at a Casting Crowns show that's happening in an arena, you'll probably have an assigned seat.
Christian concerts that have assigned seats will almost always cost more than those that are predominantly general admission. This is usually because these venues are more in-demand and can provide a greater production value to artists. Tickets for shows with assigned seating can range anywhere from $15 to $100 each. It really just depends on the artist(s) playing and the quality of the location.
VIP Status, Meet and Greets, and other Add-Ons
Regular tickets may be enough for some fans, but let's say you're one of those people who requires the top of the line in your concert experience. Many of your favorite artists have begun implementing different variations of VIP status at tour stops. For example, if you attend Lauren Daigle's Look Up Child Tour and choose to have VIP status, you can expect to receive a physical copy of her new album, attend a Q & A session, get a group photo, as well as some other perks. You can get all of that for $200 plus ticketing fees.
While most Christian artists do some kind of variation on these upgraded seat packages, you might want to take a look at what all is being offered before purchasing. The benefits and additional costs may totally change your thought process. Remember that Micah Tyler show we mentioned earlier? For only $20 more ($40 total), you get a meet and greet with the singer and early access to the general admission seats. That sounds like a bargain for some people. Just remember that there is a pretty wide definition of what is VIP and make sure the upgrade sounds like it is worth your money. For most VIP experiences, expect for your ticket to cost somewhere between $75 and $200.
Festivals, WinterJam, Outdoor Performances and "Free" Concerts
Apart from normal tour dates, outdoor festivals and special events like WinterJam are a good way of seeing multiple bands for a reasonable cost. Depending on which festival you attend, the price might be over $100 or very cheap. These performances are good, but often low on production value simply because the event is trying to cycle through so many artists in such a quick amount of time. Still, they are a nice way to hear different artists in the same place. As for WinterJam, the prices really depend on what level of involvement you want to make. The cost of entry to the event is always reasonable ($15 in 2018), but there are levels of membership in Jam Nation that will give you different rewards. Platinum and group memberships run between $35-50 and include perks like a T-shirt and early admission. You may not get to see as much of your favorite artist on stage as you would like, but similar to outdoor festivals, you are able to take in a variety of performances.
From time to time you will also encounter "free" concerts that are tagged onto other events that cost money. For instance, a professional sports team may have a Faith and Family night that features a Christian artist performing. Most of the time when you hear about a concert being free, always consider the associated costs that may make the show more expensive than you thought. Is there a "suggested donation" you should pay? Will you have to buy a ticket to the amusement park or state fair? These deals can often work out in your favor financially, just know what you're getting into before you go.
Don't Forget About Those Fees!
Sticking with the theme of unexpected costs, remember that the initial ticket price you see on a website is almost never the actual final price. Most venues and online retailers will tack on convenience fees, facility fees, etc. to ratchet up the price another 20% or so. These sneaky charges can be very frustrating when you don't factor them into your budget, so plan accordingly.
Christian concerts often feature a level of production that distinguishes them from a Sunday morning church service. At the same time, other shows are exactly like going to church. That's why you have to do a little legwork on your own to figure out prices. A band like Skillet is going to throw a lot more production into a show than an up and coming worship act. Compared to many of today's secular artists, these shows are very affordable. That being said, only you know what is the proper amount for you and your family to pay.
At the K-LOVE Fan Awards, we offer an event unlike any other in Christian entertainment. The big show features more than a dozen artists and supplies cameos from film stars, comedians, and more. The ultimate fan experience combines the genre's biggest fans with its most popular artists. Find out how you can be a part of it all by clicking on the link below.