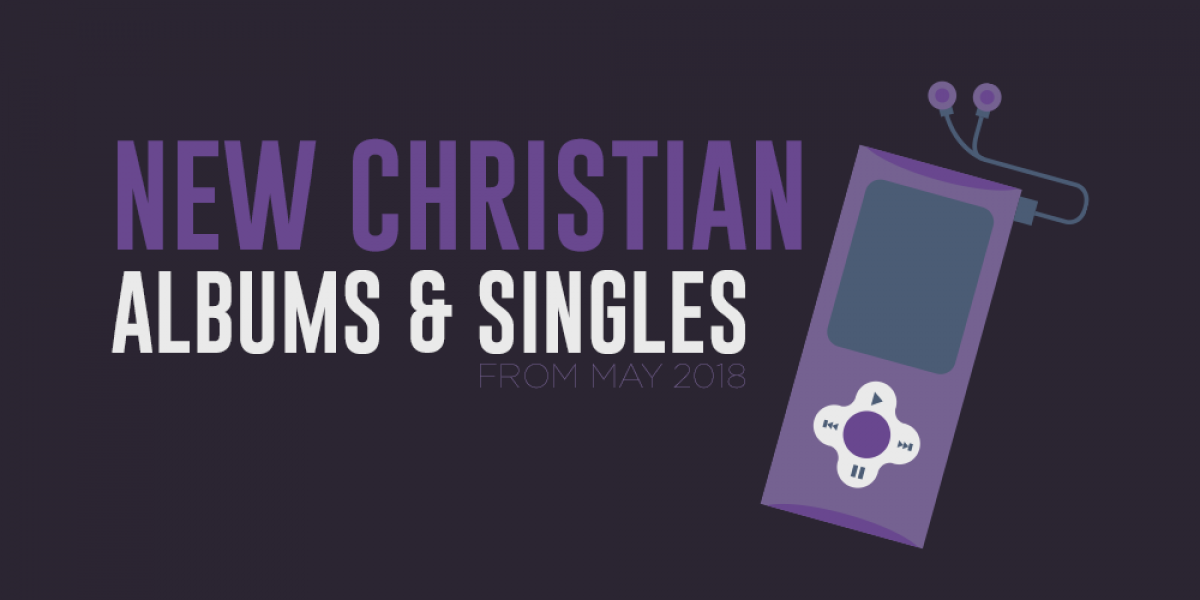 Fresh off the 2018 K-LOVE Fan Awards, it's time to take a look at what great new Christian albums are hitting shelves in May 2018. This month's collection of music has a strong emphasis on worship, as well as some hip hop and, strangely enough, an album of music aimed at putting kids to sleep. On top of May's exciting new Christian albums, there have been many singles making their debut as well. As you drive home from your vacation or enjoy a nice day outdoors, here are some of the new Christian albums we suggest you check out.
"God of the Impossible" - Lincoln Brewster
Lincoln Brewster is a career musician who has been honing his craft for decades. The artist is skilled in multiple instruments and has put all of his talents to use as a worship leader and a worship pastor. "God of the Impossible" is the musician's first album since 2014's "Oxygen." The new album features some of Brewster's best work, with songs ranging from worship anthems to rock and pop ballads. "While I Wait" is a soft, introspective track that will get you thinking about the times in your life when you have felt pain despite knowing that God was at work. "No One Like Our God" was previously released as a single, but now gives the album a powerful sendoff of worship. Fans can also look for a deluxe edition that includes acoustic renditions of several songs from the album.
"Lullaby" - Michael W. Smith - New Christian Albums
For most of the new Christian albums on your list, you're probably looking for some new worship music or maybe a new pop album to wake you up in the morning. What about something to help put the baby to sleep? We've got just the thing for all of the new parents and grandparents out there. Michael W. Smith just released a pair of new albums only a few months ago, but now he's back with an album full of soft melodies and Christian classics to help your child sleep easily. With more than two dozen songs that average one minute in length, you should find plenty of choices to help your child sleep and bring a little peace into your own day.
"Fill Us Again" - Vineyard Worship
One of the most prolific worship collectives out there is Vineyard Worship. In the last three years, the group has released over a dozen records and EPs. "Fill Us Again," Vineyard Worship's latest effort, is a collection of ten worship songs that will stir your heart. Among the selections are new classic "No Longer Slaves" and other inspiring songs of worship that fill over one hour of runtime. If you're all about live worship music, then this might be one of the new Christian albums for you.
"Crescendo" - Jackie Hill Perry
Jackie Hill Perry wears many hats: author, poet, hip hop artist, speaker, and more. Often known for her work in spoken word and for appearing in conferences around the nation, she also has plenty of credit as a performer. "Crescendo" is Perry's second rap album, following 2014's "The Art of Joy." Most of the new album's content is soulful tracks that speak on issues all Christians face both as individuals as well as part of a greater group of people. "Fall Away" is a song about losing a friend who used to walk side by side with you in ministry but has now decided to give up on his faith. Other tracks deal with topics such as growing tired in your faith, learning how to live in the world and not of it, and anything else that might cause you to have to think about how you're doing the Christian walk.
"Seasons" EP - Tori Harper - New Christian Albums
Although we've had plenty of new Christian albums from established artists, we also like to highlight new and rising talents who are just releasing their first albums. Tori Harper first made a splash with the singles "Joy" and "After Dark" in 2017, but now the young singer has put out a fresh EP entitled "Seasons." Both songs make an appearance on the new recording. "Joy" is an upbeat pop song about embracing the love of God during a hardship. "Seasons" joins the ranks of several great pop records to come out of Christian music in recent months.
"Beautifully Broken" EP - Plumb
One of the last new Christian albums for May we think you should give a listen is "Beautifully Broken" by Plumb. The release coincides with the upcoming film (hitting theaters later this summer) by the same name. Sure, the EP may be four versions of the same song, but each provides a different format in which to enjoy "Beautifully Broken." The Dave Aude Rhythm Remix does an especially interesting job of changing the original recording.
New Singles for May 2018
We hope you find some cool new Christian albums from the list above to enjoy, but regardless, May also offered some great singles as well. First up is Riley Clemmons' sophomore single, "Better For It." Similar to "Broken Prayers," the song shows that Clemmons has a grasp of the modern pop sound. One group that has collaborated with Riley Clemmons in the past is Social Club Misfits. This May the group also joined forces with Stars Go Dim for "I Look to You." The song features an infectious chorus that we know you're going to love. Jamie Grace's new single "Wait It Out" chronicles the journey of a young single woman thinking of her wedding day and the importance of finding worth from God.
It's always a cause for celebration when we get new music from Steven Curtis Chapman. The legendary singer/songwriter dropped "Remember to Remember" earlier this month. The song is a great addition to a long line of powerful hits. Another band with an impressive number of hit songs is for KING & COUNTRY. The band provided quite an energetic performance of the new single "joy." at the 2018 K-LOVE Fan Awards and the song made its debut through retailers in mid-May. If you're looking for something a little more soulful and reflective, Blanca's "Shattered" is a very moving song about God picking up the pieces of your life. Lastly for the month of May is "You Can" from Building 429. The single is an empowering song about God's ability to do far more than we ever could and how we can share in His power.
With so many great new Christian albums and singles for the month of May, we know you're going to have your hands full trying to pick a favorite. Be sure to support your favorite artists by requesting their music on the radio, paying for concerts and/or albums, and spreading the word about any new recordings they have.
May wasn't just a month for new Christian albums, but the 2018 K-LOVE Fan Awards as well. This yearly gathering features many of the genre's greatest acts and provides fans the ability to vote for their favorite artists. Come be a part of Christian entertainment's biggest night and experience spectacular performances you won't soon forget. Find out how you and your family can attend the K-LOVE Fan Awards by clicking below.