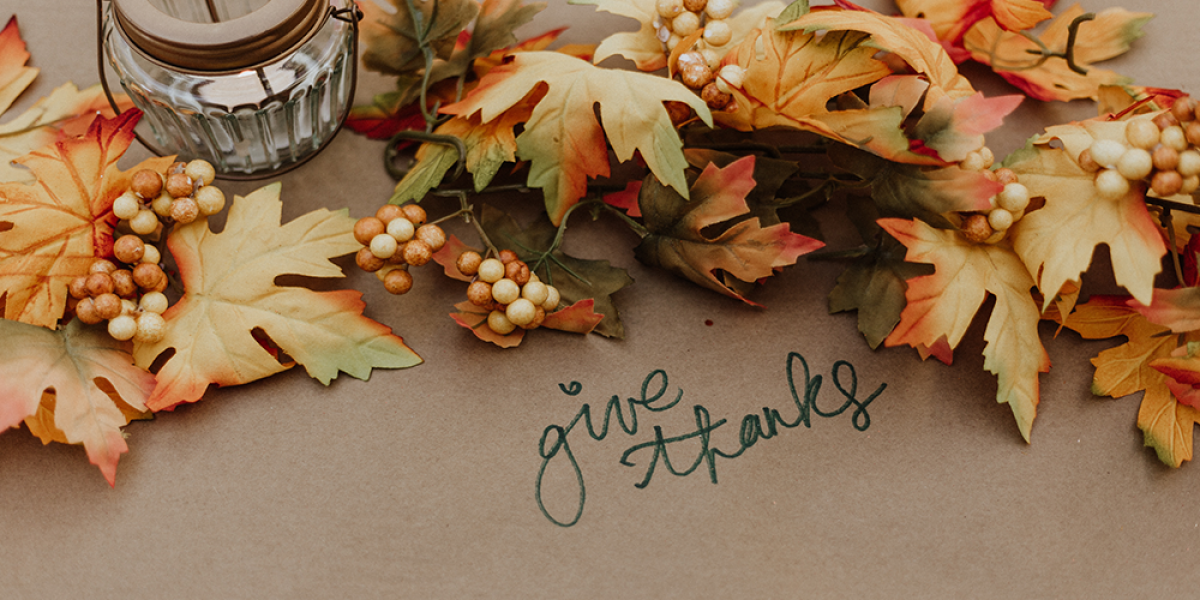 With Thanksgiving just around the corner, it's time to brush up on the art of gratitude. Some popular Bible verses on being thankful should help you think of a few things you can be thankful for this holiday season. Each day is a gift, so we should always thank God for the gifts He gives us and the ways in which He provides. These popular Bible verses on being thankful will remind you of the many times God mentions gratitude in His word.
Philippians 4:6
"Be anxious for nothing, but in everything by prayer and supplication with thanksgiving let your requests be made known to God."
As Paul tells the church in Philippi, they should focus on the heavenly rather than the earthly. Part of this process demands that we let our worries and fears go to God while at the same time having an attitude of thankfulness in all things. This can be tough, but if mastered, could change your life.
Psalm 100:4
"Enter His gates with thanksgiving and His courts with praise. Give thanks to Him, bless His name."
This short psalm is 100% praise and thanksgiving. While we can't always live our lives with this attitude, it is one we should adopt when it comes to worshiping the Lord. We cannot give Him His due if we are neglecting to thank Him for what He has done.
Colossians 4:2 - Popular Bible Verses on Being Thankful
"Devote yourselves to prayer, keeping alert in it with an attitude of thanksgiving"
These popular Bible verses on being thankful make it clear that a healthy prayer life requires us to be grateful to God for His many gifts. If we remove this element, we are merely loudmouthed consumers approaching God with our list of demands.
Psalm 7:17
"I will give thanks to the Lord according to His righteousness and will sing praise to the name of the Lord Most High."
Why do we thank God and praise Him for who He is? Not just for the things He has done, but "according to His righteousness." Since God is full of righteousness all of the time, it only makes sense that we maintain a spirit of gratitude around the clock
Mark 8:6
"And He directed the people to sit down on the ground; and taking the seven loaves, He gave thanks and broke them, and started giving them to His disciples to serve to them, and they served them to the people."
Does it ever seem strange to you that Jesus blessed His food? Wouldn't He simply be talking to Himself? This action, similar to Jesus' prayer habits, shows that even He needed to communicate with the Father. If Jesus, the only perfect man to ever live, needs to do this, how much more so do we need to be giving thanks and praying to God as imperfect humans?
Romans 14:6 - Popular Bible Verses on Being Thankful
"He who observes the day, observes it for the Lord, and he who eats, does so for the Lord, for he gives thanks to God; and he who eats not, for the Lord he does not eat, and gives thanks to God."
In this letter to the Romans, Paul is telling the church they should not look down on fellow believers for having convictions different from their own. It doesn't matter so much what you do out of religious obligation, but rather who you are serving. Here we see that men belong to God based on who they give thanks to, not which form of worship they take.
1 Timothy 1:12-14
"I thank Christ Jesus our Lord, who has strengthened me, because He considered me faithful, putting me into service, even though I was formerly a blasphemer and a persecutor and a violent aggressor. Yet I was shown mercy because I acted ignorantly in unbelief; and the grace of our Lord was more than abundant, with the faith and love which are found in Christ Jesus."
We all have both a story and a reason to be thankful if we have come to faith in Christ. It is because of who God is and what He has done that we have hope. No matter what He pulled you away from or how He is using you today, thank Him for the grace and mercy He has shown you.
Psalm 28:7 - Popular Bible Verses on Being Thankful
"The Lord is my strength and my shield; my heart trusts in Him, and I am helped; therefore my heart exults, and with my song I shall thank Him."
There are few characters in the Bible of whom we have such a great understanding of what was running through their minds as David. Here we see that He is fully placing his life in the Lord's hands and thanking God for His protection, not knowing what path he may have to walk down.
1 Thessalonians 5:18
"in everything give thanks; for this is God's will for you in Christ Jesus."
In a short summary of what he commands the early church to do, Paul includes prayer, abstaining from evil, and more. This line is among the most popular Bible verses on being thankful, as it so succinctly embodies the Christian experience. We are to "in everything give thanks."
John 11:41-42
"So they removed the stone. Then Jesus raised His eyes, and said, 'Father, I thank You that You have heard Me. I knew that You always hear Me; but because of the people standing around I said it, so that they may believe that You sent Me.'"
Again we see Jesus modeling prayer and gratitude for the people around Him. Here in the story of Lazarus being raised from the dead, we see that Jesus is thankful for His prayers being heard. We often put so much effort into begging God to do what we want and not enough into thanking Him for what He has already done.
Colossians 3:16-17
"Let the word of Christ richly dwell within you, with all wisdom teaching and admonishing one another with psalms and hymns and spiritual songs, singing with thankfulness in your hearts to God. Whatever you do in word or deed, do all in the name of the Lord Jesus, giving thanks through Him to God the Father."
Here we are given a picture of what it means for God to richly dwell within you. There is wisdom, discipline, instruction, and lastly an outpouring of thankfulness. While not everyone is given the same spiritual gifts, a healthy community is one in which everyone has a spirit of gratitude and joy.
Psalm 86:12
"I will give thanks to You, O Lord my God, with all my heart, and will glorify Your name forever."
Worship and thankfulness are closely tied together, meaning both are an essential part of the Christian walk. How can you properly worship God if you aren't trusting Him to provide for you or not thanking Him when He does? You'll also see that we are to worship and thank God with our full hearts, not in some passive way.
Daniel 6:10 - Popular Bible Verses on Being Thankful
"Now when Daniel knew that the document was signed, he entered his house (now in his roof chamber he had windows open toward Jerusalem); and he continued kneeling on his knees three times a day, praying and giving thanks before his God, as he had been doing previously."
This is a small detail in a larger story we are all familiar with in Daniel. What we see in v. 10 is that Daniel, having heard that praying to God will almost certainly lead to his death, immediately goes home to speak with God and thank Him just as he normally would. It is a testament to Daniel's character that he would still keep the same prayer schedule and pray in the same way in spite of this threat to his life. If he can thank God even in the bad times, then so can we.
Ephesians 1:15-17
"For this reason I too, having heard of the faith in the Lord Jesus which exists among you and your love for all the saints, do not cease giving thanks for you, while making mention of you in my prayers; that the God of our Lord Jesus Christ, the Father of glory, may give to you a spirit of wisdom and of revelation in the knowledge of Him."
As the early church grows throughout the book of Acts, we see such a level of excitement among the existing believers. It was an infectious level of joy and community we may not be able to understand today. We see in this passage that Paul was constantly thanking God for the believers who were growing in Ephesus. We should similarly rejoice and thank God when those we know experience a spiritual victory.
These popular Bible verses on being thankful teach us so much about having a spirit of gratitude. Learning to be thankful is something that takes a lifetime to fully understand, but we can see incremental growth from year to year. Begin by thanking God for all He has done for you and you'll be off to a great start.
One thing you can be thankful for next year is the K-LOVE Fan Awards. The ultimate fan experience includes an unforgettable weekend with all of the biggest names in Christian entertainment. Find out how you can join us for an event full of spectacular performances and amazing worship by clicking on the link below.