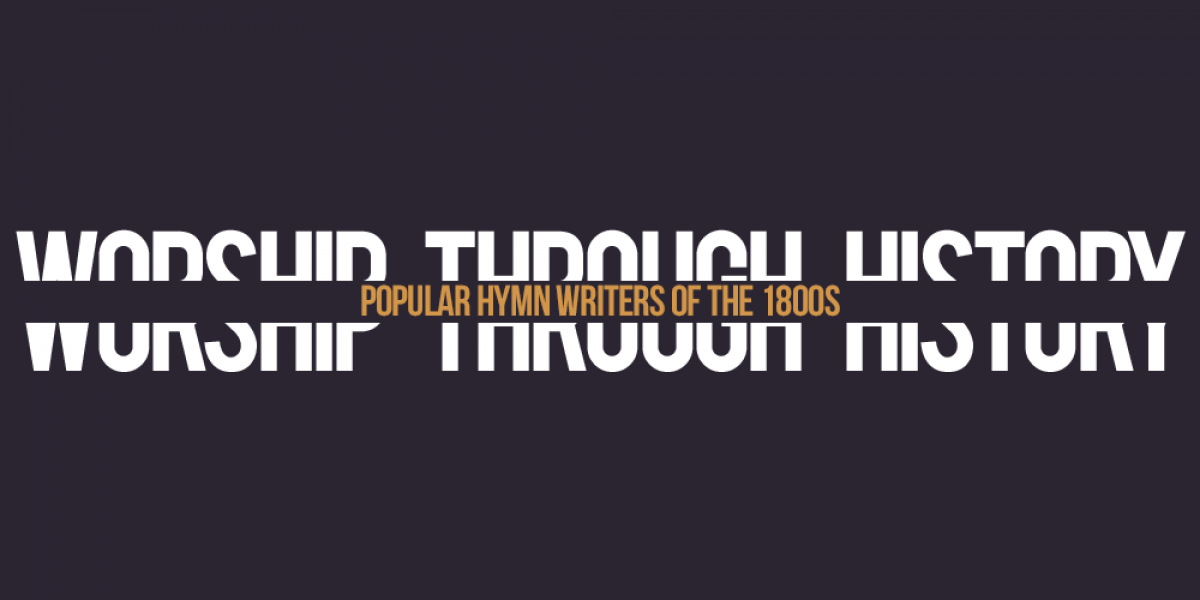 The 18th century experienced the Great Awakening, a spiritual movement that opened the floodgates for new voices in preaching, hymn writing, and more. Coming off of this time of revival, the following century enjoyed the further growth of these ministries while also establishing new icons of its own. The popular hymn writers of the 1800s are a dynamic group of songwriters that come from many different backgrounds. This century also saw a number of women begin to make strides in songwriting, including one particularly well-known hymn writer whom we'll soon discuss. Let's dive in and learn more about the popular hymn writers of the 1800s.
Charlotte Elliott
It's important for us to understand that the people who wrote our favorite hymns were just like us. Although every person's situation is somewhat unique, we must not think of the popular hymn writers of the 1800s as anything more than fellow believers. Charlotte Elliott for instance was a woman who suffered from an unknown illness for decades. As you can imagine, the hopelessness and discomfort that came with her condition left her bitter and harsh. After some time she began to warm to the idea of giving her life to Christ. Upon the visiting of a Swiss preacher, Elliott finally understood that she could come to Christ just as she was. Years later this sentiment would be written into one of Elliott's poems before it was put to music. Today, "Just As I Am" is one of the most popular invitational hymns of all time and has been used by many evangelists like Billy Graham. As for Charlotte Elliott's illness, it stuck with her over the years but she was able to live faithfully until the age of 82.
Daniel Towner
Daniel Towner worked as a worship leader and minister who served with Dwight L. Moody during the late 19th century. As he was at a meeting one night, a young man described his belief in a simple way that stuck with the worship leader. He later sent a prospective hymn title to his friend John Sammis, a minister. After Sammis put together a poem based on the notes given to him, he sent it back to Towner for a melody to be produced. This last step of the songwriting process was laborious, but eventually led to the creation of "Trust and Obey." Towner wrote many more hymns over the years, including "At Calvary" and "My Anchor Holds," and spent much of his time training future worship ministers at the Moody Bible Institute.

Fanny Crosby
There's no way we could list the popular hymn writers of the 1800s and not mention Fanny Crosby. You might think that Charles Wesley wrote the most hymns of anyone in history, having penned over 6,000, but Fanny Crosby wrote nearly 3,000 more than that! This blind hymn writer and missionary worker put together some of the best old Christian songs we love today. Among her most famous works are "Blessed Assurance," "Safe in the Arms of Jesus," and "All the Way My Savior Leads Me." Crosby was a humble woman who only wanted to write what she felt about the Lord and enjoy His presence. Over the years she worked with the biggest names in the Christian movement, including a few names from this very list.
Robert Lowry - Popular Hymn Writers of the 1800s
While some of the popular hymn writers of the 1800s focused solely on the written words of a hymn, many of these people also had the ability to compose music. Robert Lowry was a minister who also enjoyed writing hymns and composing the works of others. Among his most famous works are "Nothing But the Blood" and "Shall We Gather at the River?" As a composer, Lowry was able to collaborate with a number of other writers. Along with the very famous Fanny Crosby, he worked on the hymn "I Need Thee Every Hour" with a housewife named Annie Hawks who discovered she had a gift for music.
Horatio Spafford
The story leading up to the powerful hymn "It is Well with My Soul" is one that would be hard for any man to endure. Horatio Spafford was a well-respected man in Chicago until the Great Fire took away much of his fortune. He later lost his son to illness and his four daughters to a naval accident. While traveling to meet his wife, Spafford's ship sailed over the place where his family's own ship had gone down and the words to the song were born. Upon writing the words, Spafford sent the hymn to another of the popular hymn writers of the 1800s, Philip Bliss, who gave it a melody. Shortly after, Bliss and his wife were killed in a train accident on their way to perform with Dwight L. Moody.
Frances Ridley Havergal
Another female member of the popular hymn writers of the 1800s. Frances Ridley Havergal was an English writer and singer who gained quite the notoriety during her short life. A pen pal of Fanny Crosby, the two women were among the best hymn writers of their day. Although Fanny was humble and only wanted to serve, Havergal made a name for herself by performing regularly in prestigious settings. One of her most popular hymns is "Take My Life and Let it Be." This song of surrender has been a favorite among believers for nearly 150 years. In later years, Havergal moved from the spotlight to focus more on giving back and saving her talents for the Lord's work.
Joseph Scriven
Not all of the popular hymn writers of the 1800s were famous during their own lifetimes. Joseph Scriven was a man who experienced great tragedy in his life on two separate occasions. When he was a young man his fiancée drowned the day before his wedding. Years later Scriven was engaged to another woman, this time in North America, but she died of an illness before the wedding day. While these tragedies seriously affected the hymn writer, he felt called to serve others by often giving away his possessions and living by humble means. Once when his mother was sick back home in Ireland, he wrote her a poem which she later had published anonymously. For years, "What a Friend We Have in Jesus" was a popular worship song without a known author. It was only in Scriven's later years that he shared his hymn-writing influence with a friend.
William J. Kirkpatrick
Not all of the popular hymn writers of the 1800s were known for being lyricists alone. William Kirkpatrick was a composer who worked with all of the famous writers during the 19th century. Louisa M. R. Stead was one of the writers with which Kirkpatrick was able to compose. Having a hard life of her own, Stead used the pain of her husband's passing to pen the words to "'Tis So Sweet to Trust in Jesus." A classic hymn that has been celebrated at Christmas for well over a century, we do not know for sure who wrote the lyrics to "Away in a Manger"; however, William Kirkpatrick is who we have to thank for the famous song's composition.
Anna Bartlett Warner
Although marriage or the loss of a loved one have served as inspiration for many great works over the years, Anna Bartlett Warner is proof that a Christian can serve admirably while forever living as a single woman. She grew up with her father and sister in a humble home just outside of the West Point military academy in New York. To help pay the bills Warner would write books and articles with her sister, Susan. From one such book came a famous children's hymn entitled "Jesus Loves Me." The book itself was a bestseller rivaled only by "Uncle Tom's Cabin" at the time. When the sisters weren't writing they also taught the Bible to some of the recruits from the military academy. The Warner home is still standing today and the sisters are buried on the grounds as well, the only civilians to rest on the school's premises.
A century full of great preaching and powerful stories, it's no wonder why these wonderful songs have stuck with us for so long. When we look at the popular hymn writers of the 1800s, we see stories similar to ours. There is pain and there is healing. As we progress through the music of the modern age, we should look back at these icons of the past and pick up the torch that they carried for so many years. The same God that guided them inspires us today. How will we praise Him?
The K-LOVE Fan Awards is the year's biggest celebration of all that God is doing in the world of Christian entertainment. Featuring amazing performances from the genre's biggest artists as well as appearances from famous athletes, popular authors, and more, it is the ultimate fan experience. Find out more by clicking on the link below.